LIVSTYCKET - CONSCIOUS DESIGN SINCE 1992
Livstycket is a knowledge and design centre in Tensta – Stockholm that was founded in 1992 by Birgitta Notlöf with the vision of Sweden for everyone. Livstycket wants to give immigrants and refugees from all over the world the opportunity to learn the Swedish langage in order to break through their isolation and take their place in the community. Many of Livstycket's participants are illiterate and most of them, due to wars and conflicts, have been forced to leave their country, their language and their culture. The goal of our activities is that the participants move from exclusion and welfare dependency to self-sufficiency and rediscovered self-esteem.

Livstycket uses functional pedagogy that combines theoretical teaching in Swedish with practical artistic activities such as creating with fabrics, embroidery and textile printing. At Livstycket the creative activities are a way of processing memories and learning new things.
Our exciting designs come to life during different projects. The participants draw what they see, feel and experience. Livstycket's professional designers transform the drawings into patterns that carry truly unique stories.
Our patterns are transformed into textiles in the form of yard goods in factories around the country. In addition to sewing and producing various textile goods our patterns are also used into other materials, such as laminates for the manufacture of trays, tables and chairs or paper that then becomes table napkins.

This is design with content and attitude which we sell here in our webshop as well as in our store in Tensta centrum.

Livstyckets products are developed in an environment where every individual plays a central role. An environment where everyone is allowed to be just who they are. But also one where everyone is encouraged to grow and to take on new challenges. We hope and believe that the vitality and vigor that fills Livstycket's premises can be seen in our designs and products. And that this power and vitality will be conveyed to you and your home.

Livstycket is a non-profit association and the activities are run thanks to financial contributions mainly from the City of Stockholm and various project grants. The revenues from our sales benefits Livstycket's activities. When you shop with us, you buy a modern product in a unique design and you also contribute to making our vision become a reality.
www.livstycket.se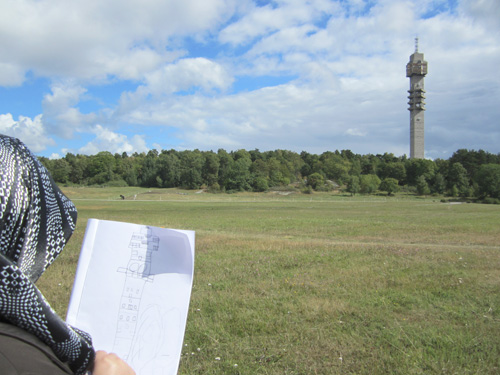 Livstycket's participants explore Stockholm and are here drawing a city landmark:
the broadcast tower "Kaknästornet"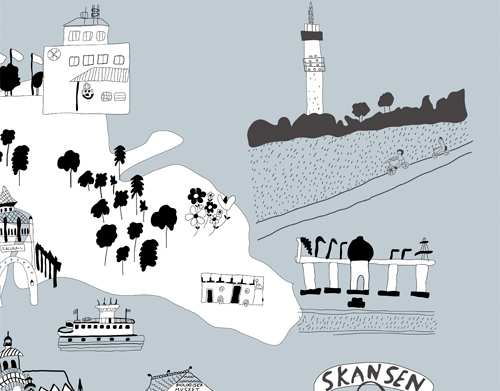 The finished pattern "Stockholm by Livstycket"